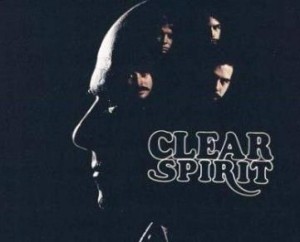 While watching the "In Memoriam" part of this year's Grammy Awards, among the many faces and names of musical talents lost last year, I saw Ed Cassidy flash past—he was the remarkable drummer of the band Spirit, which had a hit with "I Got a Line on You" in 1968. They toured with Led Zeppelin and Jimmy Page's guitar riff in "Stairway to Heaven" claims to be lifted from Spirit's track "Taurus."
My memory of Cassidy comes from a hot night in 1969 at the Hideout, a Detroit suburban club owned by Bob Seger's manager Punch Andrews. While hanging backstage after the band's show, I noticed the handsome bald drummer make an entrance into the green room. (Picture Peter Garrett, the imposing lead singer of Midnight Oil.) He glanced around and approached me with a warm smile. I was just 17 and felt a bit timid. I booked local bands' shows around Michigan for a management agency, so dreaded being considered a groupie.
"Bridget?" he asked, stepping back to look me over.
"I'm Robbie," I said, tentatively extending my hand. "Nice to meet you."
""Whoa! I thought you were this stewardess I met on Aer Lingus," he emphasized the airline name. His really large, strong hands squeezed mine.
"Really?" I wondered aloud, not believing his line. Still, I was impressed. Though close to my dad's age, he looked cool in a tight t-shirt and leather jeans and had serious command of the drums.
Cassidy leaned into my eyes, perhaps seeking a glint. "So you're not Bridget?" When I shook my head with a grin, he threw his head back with a laugh.
"I loved your show," I said sincerely before my date swept me out and onto the floor to see Rod Stewart play with the Small Faces. Over the years, I wondered what might have happened if I didn't have a date.
What's amazing is Cassidy's story in his New York Times obit:  An accomplished jazz drummer who'd played with some greats before joining Spirit, his stepson's band. Hard to believe, he died at 89. His spirit lingers as I hear a refrain from the band's song "Fresh Garbage:" See those things you didn't quite consume.
Check out Spirit's early music video. Does the flight attendant look like me?